NOVITA' ed EVENTI
Fingy's è anche esposizione di quadri, gallerie fotografiche e musica alternativa, il tutto tra una cioccolata calda ed una buona fetta di dolce della nostra cake designer Raffaella !
Marcus Møller Bitsch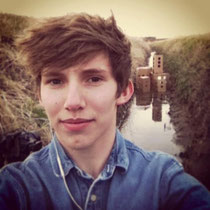 My name is Marcus Møller Bitsch, and I'm a self-taught photographer. I was born and raised in Aarhus - Denmark in December 1992. I grew up close to nature with an insatiable curiosity for life and a thriving imagination.  I was always seen with pencils and markers close to me, as the creative medium was the easiest way for expressing myself.
I began photographing 3 years ago, after trying different mediums though out my years. I've always been very creative in all kinds of mediums. I grew up close to the ocean and forest, and spent all my time discovering and exploring. Travelling has always been a big passion of mine. As a child, I was discovering my surroundings, and as I've grown older, my horizon has expanded with new places and cultures to be discovered. My interest in photography started as a documentation solution, in order to convince my parents about what I saw on our annual vacation. I bought an underwater disposable camera on our holiday to Malta, as a 10 year old, and then many years later, I bought a SLR. Two years ago, I unfortunately injured my knee, which meant I couldn't practice freediving for months. I had to ask myself, "So, what should you do now Marcus?" All my life, I've been pursuing big passions and goals, which have taken up my spare time completely. I took up photography after the knee injury. I wasn't incapable of doing water-sports, and had therefor oceans time to pursue my newly profound passion. I fell in love with the medium and started the big project "365" as my way of exploring the medium and understanding the world within in it.
The exhibited series is photos part of the yearlong project I finished last year – named: "The 365 days project". As the name of the project indicates, the task of this challenge is to capture and process, a photo every single day within the span of the 365 days. There are no other restrictions.
If desired, you can see the whole project at my website:
Barbara Renna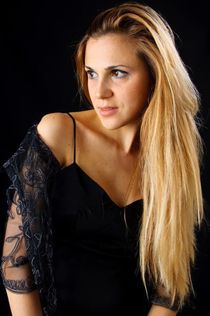 Barbara Renna, artista brindisina, si accosta alla pittura come autodidatta, in seguito agli studi classici ed artistici, la laurea in Conservazione dei beni culturali e la specializzazione in restauro artistico.
Il desiderio di tradurre il suo mondo interiore in immagini pittoriche arriva all'improvviso, dopo anni di disegno a matita e a penna su carta ,nei quali nasce il suo stile misterioso e il suo segno grafico ed istintivo.

Il debutto ufficiale avviene nel 2013,a Febbraio, quando partecipa alla mostra itinerante :"Arte nel triangolo industriale", organizzata dalla galleria d'arte moderna "Sabrina Falzone , che da Milano è approdata a Savona e infine a Torino.
Il professor Aldo Maria Pero, critico d'arte, sul dipinto che rappresenta il debutto della pittrice scrive: Con "In Te" Barbara Renna ha realizzato un'opera complessa, ricca di simboli e articolata in una sequenza temporale, dal tempo dell'amore, al concepimento, alla successiva imposizione di un gesto di possesso. La tela è dominata da una leggiadra figura di fanciulla il cui volto raccolto e meditativo reca graziosità di segno che la riconducono al mondo incantato di Chagall, così come i capelli che paiono la brillante scia di una cometa.. Il lavoro della giovane artista presenta in gradevole evidenza un felice uso dei colori, che assumono un valore di simbolo come avrebbe auspicato Stéphane Mallarmé e più ancora ben evidenziano i contenuti simbolici di un'opera ambiziosa che potrebbe essere letta come un omaggio alla maternità. 
Con le sue opere la giovane artista racconta la sua vita, il tempo passato che ancora segna e spesso deforma il presente, e con un 'impasto materico graffiato sulla tela comunica se stessa in modo vigoroso,con un impeto tale da turbare l'osservatore:sorpresa, fascino e rapimento generato dall' immediatezza espressiva del segno e del colore.

Dipingo e vivo 
senza indugi, 
con forza dirompente mescolo la mia anima col colore,
con le dita sulla tela, 
è questa la mia verità.

Barbara Renna
Natalya Karavay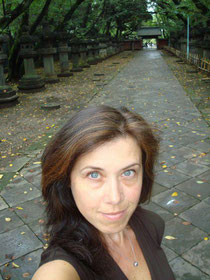 Born in Rumania, Natalya Karavay was raised in Moldova and moved with her parents and younger brother to the United States in 1978.
Always interested in art and hand drawing, she was encouraged early on by her teachers and parents to pursue a creative direction.
Once in high school, she excelled in drawing and entered a few student competitions with great success, encouragement and prospects. 
With her heart set on an artistic path she decided to pursue an education in Architecture, as she entered the California State Polytechnic University in 1987. With the hopes of merging her artistic & functional design interests into one, the five year intensive program fulfilled more than she could have ever expected or imagined. Traveling to Eastern & Western Europe during her studies also opened her palate to a whole new perspective & photography. With her new found love and passion, she was able to express & exhibit her architectural/photographic work as one.
After graduating with a Bachelors degree in Architecture, in 1992, she took a few years to travel and explore. She started to take and develop her photographs and new adventures, more seriously. She began to collaborate with an artistic ensemble of galleries, exhibitions & like minded artists looking to expand their work & exposure in Southern California. 
A professional life was about to change all that. In 1996 she was offered a position in an architectural firm. Working for a number of Architects, in Los Angeles & abroad proved to be a creative road block and she began to question her decision to pursue Architecture as a full time profession. 
As she searched for another avenue, an Interior Design door opened wide. And that became a 13 year endeavor of discovery & experimentation in a whole new direction. But photography was never far behind. She was able to develop her craft further with an Architectural eye & began shooting interiors & furniture. While still traveling, when she had the opportunity and always bringing her 35mm Cannon with her, photography became her escape from daily life.
Traveling to Hawaii, Mexico, Greece, France, Spain, Italy, Romania, Russia, Japan and throughout United States has offered Natalya wondrous inspiration. And being an avid nature lover, her hiking, skiing, biking and scuba diving, have also breathed life into her always searching, very curious, and enchanted eye.
Working in Architecture and Interior Design proved a great training ground. And after an economic down turn in the design industry, she decided it was time to go out on her own. Making it official, in 2010 to freelance, she has never looked back.
This is N. Karavay's first overseas exhibition.